A satellite map of our resort Club Amigo Caracol.
Since we had never visited any of the resorts in Santa Lucia — and had heard so much about them — the only question was which resort we should go to. After several hours of browsing TripAdvisor's reviews & forums and exchanging a few emails with TA's members, we decided to go to the Club Amigo Caracol, which appeared to be very cosy, reasonably-priced and rated as the no. 1 resort in Santa Lucia.
Just a few weeks before our departure I had a client in my office and we started talking about Cuba. I told her I was going to Cuba shortly.
"Where are you going?" she asked.
"To Santa Lucia," I said.
"Which hotel are you staying at?"
"The Amigo Caracol."
She seemed quite stunned.
"Do you know this hotel?" I asked her, thinking that perhaps she had had some bad experience while staying there.
"My Cuban boyfriend works there and I will be going there in January of next year," she said.
Wow, the world is a small place!
On the day of departure she met us at the airport and gave us a gift for her boyfriend, which we of course delivered to him at the resort.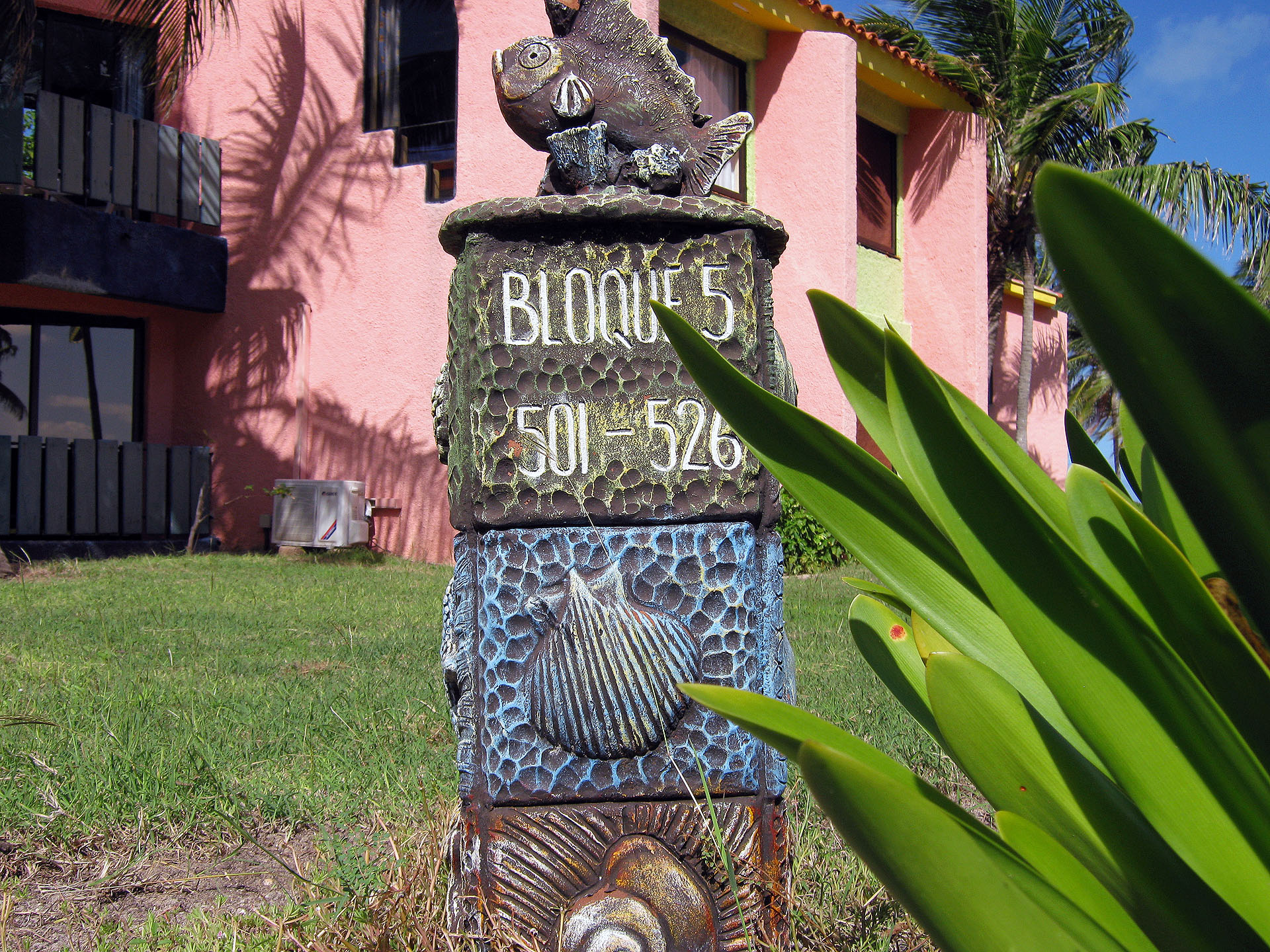 Our room no. 510 in block "500"
There were at least 13 cats, patiently wanting in front
of the restaurant
The bus ride took 1.5 hour and once we arrived at the resort, the hotel staff was waiting for us. Catherine ran to the reception in order to get the best room and I was standing near the buss, collecting our pieces of luggage. We quickly were assigned a room (no. 510), got the wrist bands and one of the hotel employees brought our 5 pieces of luggage to our room, carrying them up the stairs (yes, we tipped him I CUC per each piece of luggage). Although it was quite late, we were still able to have dinner, which was great, as most of us were quite hungry. While inside the restaurant, we saw plenty of embraces and hugs among tourists and hotel staff/servers — indeed, some people had been coming to the Caracol regularly for many years. We met a very interesting, 88-year old gentleman (a machine gunner in the Second World War, he took part in the June 6, 1944 Normandy landing), who also had had a triple bypass surgery, an artificial knee and lung problems due to his work with asbestos. In spite of his problems, he seemed to be in a great shape and most returning tourists knew him quite well.
"How often do you come to Cuba?" I asked him.
"I only sometimes go back to CANADA for vacation — otherwise I stay in Cuba," he replied.
We later encountered him zipping around on a rental scooter in the nearby village. 'Nuff said!
Cats befriended Catherine in no time!
There were 5 semi-circular sections (blocks) and we stayed in the '500' block (as per TripAdvisor's advice), which offered an ocean-view and sheltered us from the noise coming from the entertainment area. Besides, certain sections/rooms (the better ones) were only available to those tourists who bought Hola Sun packages. The room, on the upper floor, was very nice. It consisted of a 'living room', with a balcony facing the ocean (with two beach chairs), a sofa, armchair, small fridge and a coffee table. It was possible to slide the balcony windows wide open as well as open the other window, which faced the '400' block. The bedroom had two double beds, a TV set, telephone, safe, closet and a very big, sliding window. Remote-controlled air conditioner worked very well. Since it was quite windy most of the time, we used air conditioning very sparingly, preferring to sleep with windows open. Because of the wind, there were no mosquitoes, but once it became calmer, we did see several mosquitoes in our room. There were also tiny ants (?), but almost invisible — yet when I left my empty cup, with traces of coke & rum, in a little while I saw plenty of those miniature insects swarming all over the cup. Yet they did not bother me — I would rather deal with them than some toxic insecticide.
Our room's door was opened/closed with a magnetic card and we got a second one from the reception. Exactly one week later the cards ceased to work, even though we came for 2 weeks — we were told cards were programmed for 1 week, so we had to go to the reception to have them re-programmed.
It rained a few times (usually very briefly), once we left the window and balcony door open and some water got on our floor which became VERY SLIPPERY! Also the tiles in the bathroom, when wet, became SLIPPERY; we often spread towels on the floor to prevent tripping. The maid (Marta) did a very good job cleaning our room and every day we left her 1 peso; in addition, Catherine gave her some chic clothes that her fashion conscious daughter no longer wore and Marta passed them on to her daughter who was about celebrate her 15th birthday….a big deal in Latin American countries.
The resort was pleasant and everything was nearby. The beach was sandy, its width kept changing by a few meters due to tides — on the last night of our stay it was very windy and when we went to the beach in the morning, we could see that overnight the waves had flooded at least 2/3 of the beach, leaving plenty of seaweeds all over. A tractor raked seaweeds off the beach on a daily basis. Usually we would come to the beach at 2:00 pm and stayed till 5:00 pm. It was quite windy most of the time, yet the long reef, located several km from the shore, made a very effective protective barrier, blocking the waves and thus it was possible to swim almost every day, as the waves were not a problem at all. There were about 50 kite surfers (mainly from Quebec) and they had a blast! Some were surfing (too) close to the shore, others were barely visible, choosing to surf near the reef. The water was quite shallow, even many meters from the shore. Unfortunately, it was impossible to see anything noteworthy under the water while snorkelling off the beach and that was why we decided to take the snorkelling tour.
Enrique with a very unique tattoo
There were a number of Cubans regularly walking along the beach and striking up conversations with tourists, trying to sell carvings, necklaces, hats, shells, starfish or offer lobster dinners, buggy rides or even find good taxi drivers. One of them, George (his name had been mentioned in many reviews on TA) was quite a nice, nonintrusive fellow and we spent some time talking to him.
"Hi George, Gina sends you greetings from Canada," I shouted to him when I saw him the first time.
He was a little surprised to hear that, but then I told him that I had contacted Gina through TripAdvisor and she had mentioned his name, asking me to say 'hi' from her.
Yet we did not use any of his services as we were not really interested in a lobster dinner. Catherine bought a very original necklace, a stylish crab claw, from an older beach seller called Enrique, sporting an impressive tattoo of Che Guevara, which I immediately photographed. To be generous, Catherine also bought an inexpensive black volcanic rock bracelet which she thought perhaps his daughter had sent from a Miami dollar store where she resided. Lo and behold, one of the waiters complimented Catherine extensively on the bracelet and actually went and bought one for himself. In the meantime Catherine bought another one and presented it to the waiter who happily accepted it. I wanted to buy a very creative carving that another vendor was offering, but I never saw him again. There were catamarans and pedal boats on the beach, but we never used them.
Gardeners made excellent job keeping the grounds clean; every day they raked the surroundings — and every day we could see plenty of holes, especially along the sidewalks. In Canada, I would assume that chipmunks were making those holes; in Cuba, it was purplish and orange crabs, known as Halloween Crabs, yet they were very timid and it took some time before I actually saw them — apparently they must have not only seen us approaching (they did have big eyes!), but also detected our footsteps' vibrations and quickly retreated to their burrows.
Several times we asked the gardener to bring us coconuts for 1 peso — he peeled them with a machete and made an opening so that we could drink the coconut water and then eat the delicious pulp. Catherine and a neighbour (Larisa, living in Toronto, originally from Russia) soon had a daily 8:00 am o'clock date with this man outside our block. At one point he also supplied them with local honey, poured into a water bottle.
Everybody was raving about David the masseur and some people had a massage every day. We went to the gym, where he had his room. We briefly talked to him and Catherine eventually had one massage. She liked it, yet said that her outstanding Chinese masseur in Toronto was better for deep tissue which she requested. On the other hand, Dave told her that he did not want to exert too much pressure on her as not to make her too sore.
International Clinic, never opened
Breakfast was served from 7:30 to 9:30 am. I always had an omelette or three eggs, made to order by the cook, coffee, juice, yogurt, bread/buns with butter & cheese and I loved it! In the morning we also brought empty plastic bottles and asked servers to fill them with water.
Most of the time we skipped lunch, but when we did have it, it was very tasty. When you eat a large breakfast, it seems you can easily skip the buffet, knowing the beach bar is an option.
Dinner was served from 6:30 to 9:30 pm. There was always something scrumptious to pick: beef, tasty pork, tender ribs, chicken, delicious shrimps, cooked-to-order pasta/spaghetti, salads, fish… the waiter brought us red wine (average+) and cold beer. I found the vegetable salads rather disappointing and bland, there was no salad dressing (except for olive, vinegar and garlic) and I hardly ever had any (not that I really wanted to have salad anyway!). Desserts were very good, especially excellent ice cream. The servers were very pleasant, promptly bringing beer, wine and other beverages, never tried to sell us anything (as some had attempted to do in other resorts). Now and then we were able to chat a little about their private life & families and always left tips of 1 or 2 pesos.
We counted up to 13 cats in front of the dining room, patiently waiting for tourists to give them food. Some were tame and liked being petted, others did were too timid to be touched. Once they realized we had food for them, all of them followed us religiously. Apparently the felines also kept the vermin out of the hotel property — we did not see any pests. We were asked by the head waiter to feed the cats away from the main steps leading into the dining room, so like the Pied Piper of Caracol, we led them away from their perches to the less busy end of the sidewalk.
There were about 20 bikes for rent; the first hour was free, then 1 peso per hour (although we were never asked to pay anything extra). Some bikes were not in top shape (flat tires, loose mud guards, impossible to adjust seats) and needed basic repairs & routine maintenance, but we always managed to get good ones and overall I found them quite comfortable to ride. Almost every day we spent from 1 to 3 hours bike riding, either to the north, to the village of Tararaco, or to the south, towards Camagüey. There was a gas station (plus a store) just over 1 km south of the hotel, adjacent to a very high communication tower, where it was possible to pump air. Francesca was responsible for pedal bike (and scooter) rentals and she could be usually found at her desk just outside the resort store. I never rented a scooter, but stroke up a conversation with a Canadian tourist; looking at the themes on his t-shirt, I correctly inferred that he was a seasoned motorcycle rider. Indeed, he said he had a huge Harley Davidson motorbike back in Canada and tens of years of riding experience — for him, the scooter was almost a child's toy. Nevertheless in the previous year, while riding a scooter to La Boca, he had an accident caused by the sandy and potholed road and had to pay for the damages the scooter sustained.
With Braulio, at his Organic Restaurant and Gardens
At Braulio's booth with natural juices
We tried his drink and it was delicious! Even though his venture had a full support of the Cuban government, he was still struggling with many bureaucratic problems, de-motivated workers, training wait staff in English and Epicurean manners as well as the endemic lack of building (and basically any other) supplies in Cuba. Like many American naturopaths, he seemed genuinely concerned about the food habits of the population... only in this case, the Cuba population who often ate the Standard American Diet (read unhealthy) and eschewed relatively plentiful and inexpensive fruits, vegetables or coconuts (which Braulio always plucked and prepared for us). One of his waiters-to-be made his first 2 peso tip by getting us two coconuts and cutting a hole in them so that we could drink the water with a straw and later eat the delicious meat. I explained to Braulio the significance of the Internet, especially such websites as TripAdvisor, where his patrons would be able to post comments about his restaurant and rate it, thus making it allowing potential customers to read those reviews and base their decision regarding visiting his restaurant on the content of such reviews. Later I found out that indeed, he managed to open the restaurant on time and according to TripAdvisor reviews, as of August, 2014, it scored impressive ratings (16 reviews, 5 out of 5 stars).
Braulio is preparing a coconut for us
A lot of Cubans, including some hotel workers, asked us specifically for children's clothes and towels. Another item that caught their attention was our re-usable, colourful bags, sold in Canada by almost all major stores. Although it was possible for Cubans to buy a lot of things in Cuba if they had CUCs, prices of many items were quite high in comparison to those of the same items in Canada. That was why I thought that perhaps it would not be a bad idea to give them, in lieu of pecuniary tips, quality gifts which would have been worth twice or thrice as much in Cuba. When we asked one Cuban about what people in this neighbourhood needed the most (and he happened to be relatively well-off by Cuban standards), noticeably surprised at our question, he said,
Very photogenic residents of Tararaco
"Whatever you can give them, they will be happy to accept, most of them have nothing and they will be grateful for anything they get. You have no idea how poor many of them are, living in squalid, primitive conditions."
Some Cubans who spoke English asked us if we had any magazines, newspapers, books or dictionaries in English and I happily gave them "The New York Times", "The Globe and Mail" as well as a few recent issues of "The Economist". When we fly Cubana, we can bring almost 50 kg of luggage per person, yet other airlines are not nearly so generous when it comes to baggage allowances.
None of the Cubans we met had access to the Internet and most had only very vague idea on how the Internet worked and how critical and essential it had become in our everyday life. Many Cubans we spoke to, especially those having business dealings with tourists, did not fully realize that the Internet might also have a huge impact on their businesses because of reviews posted online.
There were plenty of taxis, horse-drawn buggies and bici taxis on the hotel property or just near the road leading to the hotel. I did not know how busy they were, but each time we were leaving and coming to the resort while bike riding, we saw dozens of such vehicles idly waiting for customers. Taxi drivers wanted from 50 to 70 pesos to go to Camagüey (7 pesos less just to the airport); if hired for the whole day, it would cost about 100 pesos. Buggies charged about 20 pesos to take you to and from the village of La Boca (yet prices depended upon the number of people and whether or not they were going to have a lobster dinner there, as well as one's negotiating skills).
OUR EXCURSIONS FROM THE RESORT
Since we had booked our vacation through Hola Sun, one of the perks we got (in addition to staying in the Hola Sun section, getting a free bottle of rum and not having to pay for the room safe) was a free trip to Rancho King (I believe it normally costs about 35 pesos per person). After a bus ride we arrived at the ranch, where we were welcomed by 5 horse-riding cowboys and then were taken to a small herb garden and given a very informative presentation on various herbs and its healing properties.
Welcome at Ranch King
Next we proceeded on foot to the nearby village, followed by a bunch of locals, reaping gifts from tourists who supplied treats and school supplies. We stopped at a Cuban house (Fidel Castro had spent a night in one of its rooms once) where we were given another illuminating presentation on the history of the ranch and demonstration on extracting water from sugar cane as well as offered coffee and fruits.
One of the cowboys
There was a group of American tourists, taking part in a legal 'educational' trips to Cuba; we briefly spoke to them and they were quite astounded at how little we paid for our vacation — theirs cost almost $5,000 for one week (per person)! A small school was located just across from the house and people were able to distribute directly to schoolchildren whatever gifts they brought. We headed back to the dining room for lunch; of course, the main dish was the roasted pig! Overall, it was an enjoyable and informative trip… and free!
It could be booked thorough a rep outside the hotel shop (in our case, it was Jose) and cost 25 pesos per person. We inquired beforehand as those tours were not always a go, depending on the number of participants and the weather. Incidentally, a several days earlier, Catherine offered to pay a hotel sports-worker to take us out on the Hobie Cat for a reef snorkel, as it was a calm afternoon, but he declined. She had the feeling that the staff had been instructed to encourage people to sign up for the tour. The bus picked us up at 10:00 am (Cuban time) in front of the hotel and after a very short drive we boarded the catamaran which was docked in the marina north of the Mayabano Hotel.
The village of La Boca, located some 8 km north of the hotel, could be reached by a potholed, unpaved road. We thought about bike riding there, but considering potential mechanical problems with the bikes and possibility of walking back in the dark, we decided against it.
Let me digress from the subject here: I found it surprising that Cuba, having espoused the communist system based on the ideology of Marx, Engels, Lenin and several other prominent thinkers and theorists, never made any vigorous attempts to educate tourists about those revolutionary visions. Except for several political books available for sale in resorts (often overpriced, boring and mostly in Spanish), I never encountered any free or inexpensive propaganda materials aimed at foreign travellers (well, obtaining the daily Spanish issue of "Granma" was often very difficult — and the English version of "Granma" was almost non-existent). Conceivably the Cuban government want to keep those advanced principles to themselves and do not desire to share them with outsiders… Or, maybe it is afraid that if Canada adopted its ideology as well as political and economic system, Canadians tourists would not be able to afford travelling to Cuba…
We were delighted and quickly moved into the room, knowing that possession is nine-tenths of the law (on the second thought, I did not think such law applied in Cuba — although this tenet had been successfully working for the Americans in Guantanamo for many years).
We quickly settled in the room, which had a private bathroom with a shower as well as a working air conditioning. Right away the owner offered us supper and we accepted, telling her that we would come back in the evening, as we wanted to explore this beautiful city and in no time we hit the streets and pavement.
Wow, what an organized guy — he certainly surpassed Toronto's homeless & beggars in his ingenuity!
"It is not fair that you can travel and I can't," he said, "it's not fair that I don't have access to the Internet, can't read western newspapers, and can't enjoy the freedom you can."
I could perceive that he was really disillusioned with the way of life in Cuba. I understood him quite well. Cautiously, he added:
"But the current president of Cuba [Raul Castro] is much bolder than the previous one, in terms of making changes."
We later wished we had hired him as a guide the next day, probably we could have learned a lot from him about Camagüey and life in Cuba in general.
Another Cuban we met, quite an intelligent and interesting gentleman, who spoke quite English quite well, was not satisfied with the political reality either.
"I have built a cocoon in which I live," he said, "and thus I can be isolated from the events that take place around me in this country. I try to focus on reading books, talking to tourists, meditating…"
The only good thing was that the Cuban government had also realized that the system could not survive in the present form and that was why more and more changes had been introduced, Cubans were encouraged to set up businesses and become self-employed instead of relying on getting government jobs. It will be interesting to see how those changes will transform Cuban society and economy, but no matter what, it will be a long, difficult, full of obstacles and very bumpy road!
Our plane was departing in the evening and we were supposed to check out at 12:00 pm, yet the maid let us stay longer (after all, the maids cleaned the rooms until about 3 pm). The hotel bus took us to the airport a few hours earlier. While I joined a line to the ticket counter, Catherine was getting the suitcases; Larisa's husband Alex helped her out. Unfortunately, I picked the worst, slowest line: all the tourists who joined other lines long after us were processed and we were still waiting. Nevertheless, we got quite good seats at the very back of the plane.
It was our sixth trip to Cuba in 5 years (since 2009) and undoubtedly one of the best — not that we had had a bad one, all of them were very good! We loved the hotel, food, staff, beach and the overall atmosphere. The excursions allowed us to experience, at least partly, the real Cuba and meet plenty of very remarkable and kind Cuban people. Although hitherto we have never gone to the same resort more than once, we are considering returning to the Caracol next year and re-visiting villages of Tararaco & La Boca and spending several days in the city of Camagüey.